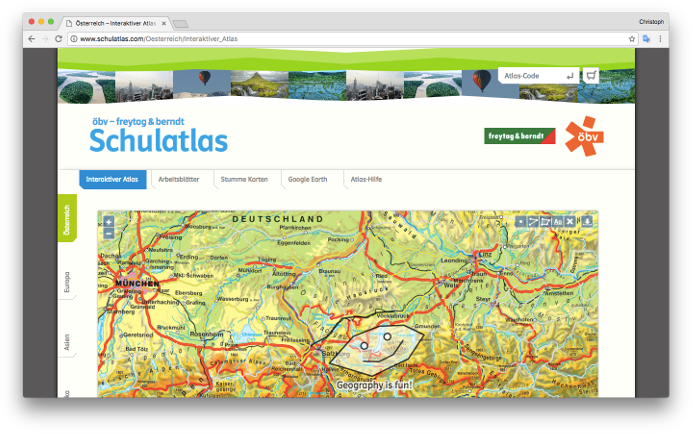 I am happy to present to you a project I completed last week: schulatlas.com is the accompanying website for a middle school atlas issued by map publisher Freytag Berndt & Artaria (F&B) and the former Federal Publishing House of Austria ÖBV, nowadays one of the leading producers of school books in the country.
The atlas is now issued in its second revision to be used in classrooms from autumn 2016. A cartography student and part-timer at F&B at that time, I had collaborated in the first edition's website: the interactive web maps were devised and programmed by me. It had become obvious quickly what geography teachers loved the most about the atlas: the feature-rich website offering a multitude of additional classroom material, and especially the interactive maps.
Now, more than a few years later, I was approached and asked to realise the website for the new atlas.
In a project of this size, naturally, many things are set in stone from the very beginning, and many stakeholders are involved in seemingly small decisions. Nonetheless, the atlas website came out in a surprisingly consistent form, and I was able to bring in a few constraints I had set myself for any web project I would henceforth pursue.
The key characteristics of the page include:
The entire atlas, i.e. every single page of the printed product, can be previewed from the website in high quality without jeopardising the printed product's sales
The page sticks to the visual language of the atlas, also retaining its thematic structure, and is intuitive to the novice visitor. Also: pretty URLs representing the book's structure
The principal maps (21) are devised in an interactive manner. Besides zooming and panning, they allow the user to add annotations and download a PDF document which includes the map at the chosen extent, the annotations, an appropriate legend and other map decorations.
A total of 24 maps are available as a Google Earth KML-file.
Over 100 work sheets supplementing the atlas' use in the classroom available as non-DRM-ed PDF.
Blank maps (german: "stumme Karte", "mute map") of 20 different regions can be downloaded as a PDF in six variants each.
All content is accessible from mobile, tablet and desktop devices the like, with most of it following the principle of "progressive enhancement" allowing older devices at least basic access.
See for yourself: http://www.schulatlas.com/